How to Install your Insulated Glass Unit
The glass that is exposed to solar radiation absorbs heat and expands at a greater rate than glass edges hidden by glazing beads or gaskets. This expansion causes stress which, should it reach the breaking stress of the glass, will cause a thermal fracture. Thermal stresses are caused by other factors including shadows, blinds, drapes, heaters, and back-up walls. Therefore, it is important that IGU's are always glazed correctly.
Laminated panes are more susceptible to thermal fracture as edges are prone to damage, and are more difficult to cut without causing stepped and damaged edges. This is further aggravated by blinds, partial shading on the glass, and light-coloured metal window frames as earlier mentioned.
Where annealed glass is at risk of thermal fracture, use heat strengthened, or toughened glass.
The handling, storage and installation of IGUs must be carried out strictly in accordance with Section 3, Appendices E, F and G of AS/NZS 4666:2012, with a minimum edge cover of 12mm for units with polysulphide or hot-melt secondary seal. Window frames must be drained to ensure the rapid removal of any water that may penetrate the glazing rebate.
Units with secondary polysulphide or hot melt secondary seal must NOT be stored outside under the sun and rain, as UV light causes degradation of the seal.
For structural silicone glazing, units must have a silicone secondary seal.
All solar control glass must be positioned on the exterior side in accordance with the attached guide.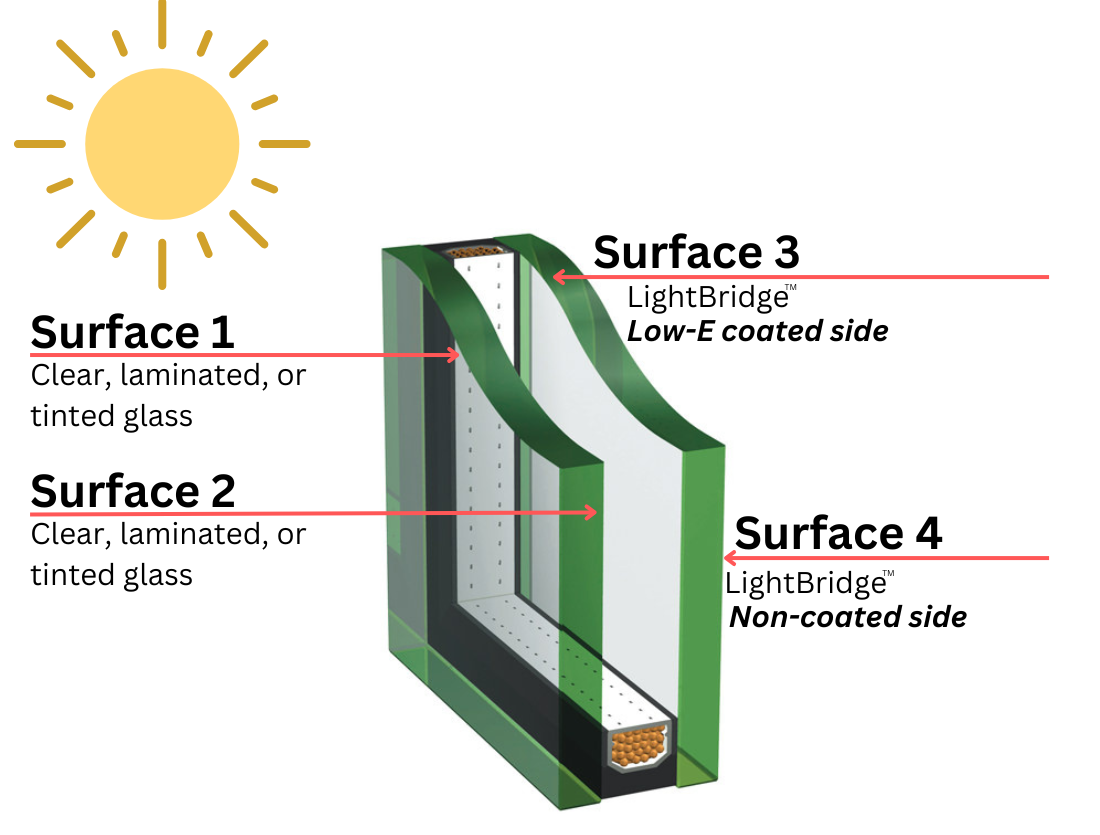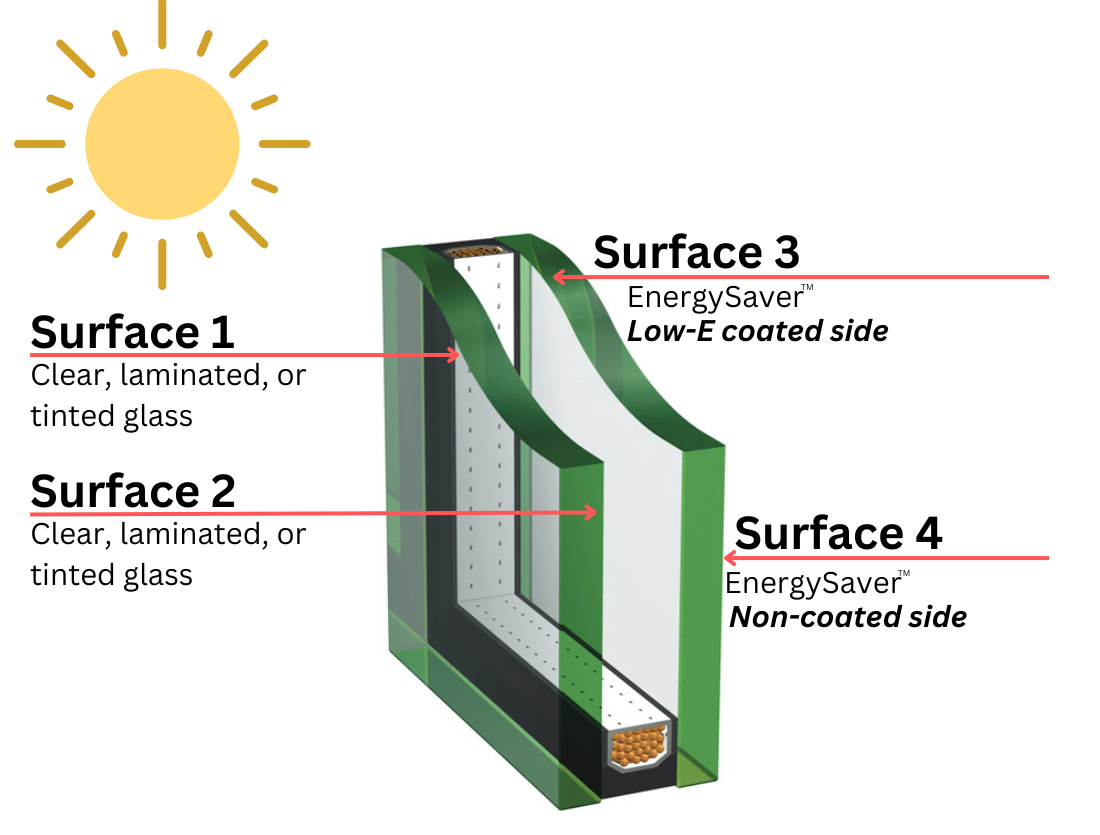 PerformaTech™ 


Solar Controlled Glass Should be on the exterior side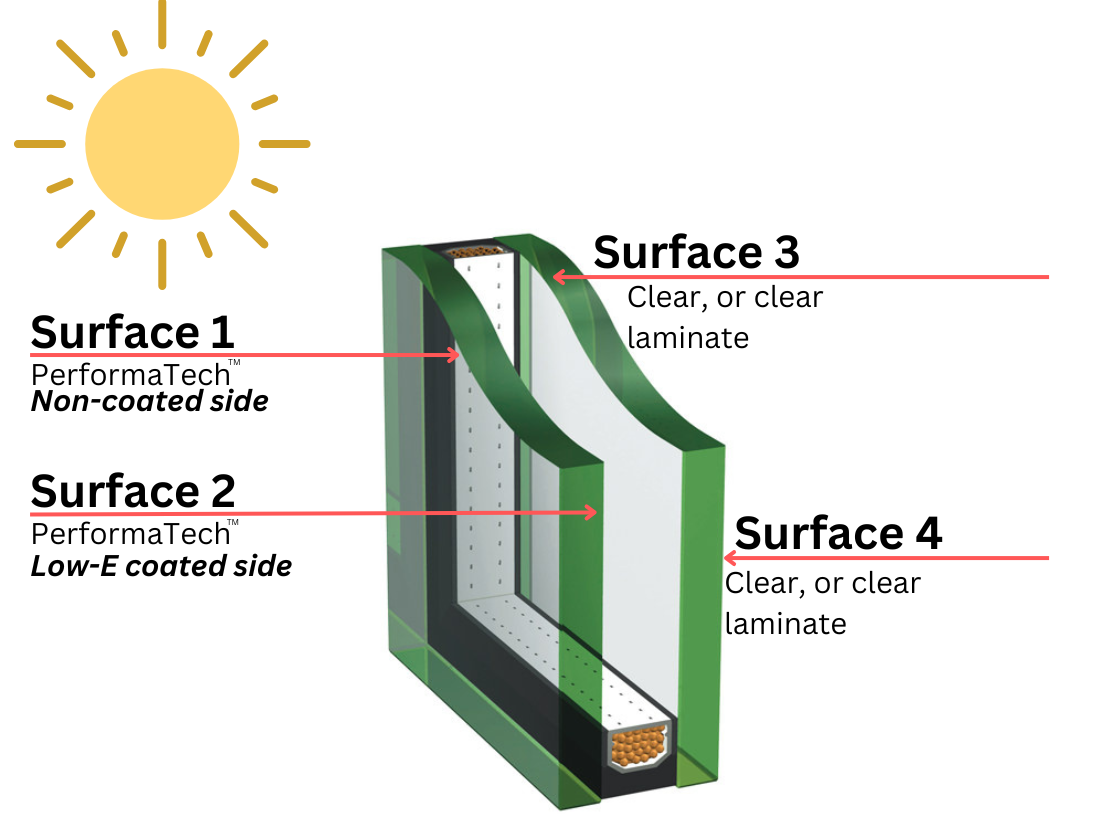 PerformaTech™ + Tinted Glass


Tinted glass to exterior side (make sure glass is toughened)

 
Install insulated glass units with the following glass positions, as provided by the table below:
| | | |
| --- | --- | --- |
| IGU TYPE | OUTER PANE | INNER PANE |
| EnergySaver™ + Clear  Glass | Clear  Glass | EnergySaver™ |
| LightBridge™  + Clear  Glass/ Clear Laminate | Clear  Glass | LightBridge™ |
| LightBridge™  + Tinted Glass | Tinted Glass | LightBridge™ |
| PerformaTech™ + Clear  Glass/ Clear Laminate | PerformaTech™ | Clear  Glass |
| PerformaTech™ + Tinted Glass (toughened) | Tinted Glass | PerformaTech™ |
| EVantage™ + Clear  Glass | EVantage™ | Clear  Glass |
| Stopsol™ + Clear  Glass | Stopsol™ | Clear  Glass |
| Sunergy™ + Clear  Glass | Sunergy™ | Clear  Glass |
Cleaning & Maintenance Advice
Cleaning of Glass
This information is offered as general information only. Specific advice on the cleaning of glass should always be sought from a reputable glazier or professional window cleaner before any glass cleaning is undertaken.
THE FOLLOWING SECTION IS DIVIDED BY ROUTINE CLEANING AND SPOT CLEANING
Routine Cleaning
Hand cleaning of the glass surface, to visibly remove accumulated dust or fingerprints, can be accomplished using several different glass cleaning products.
RECOMMENDED PRODUCTS:
Mr Muscle® Surface and Glass produced by SC Johnson & Son Pty Ltd;
A mixture of one part vinegar with ten parts water.
Or
In addition to the above products, commercially available vinegar-based glass cleaners have generally demonstrated an ability to provide a clean, streak-free glass surface. Viridian does not recommend the use of ammonia-base and alcohol-base glass cleaners because these products tend to leave visible streaks.
PROCEDURE:
Generously spray-on the cleaning solution.
Wipe to dry with a clean, lint-free towel or cloth. The use of a squeegee is not recommended and could increase the risk of damage to glass and as such should be avoided if possible.
To prevent streaking, stop wiping when the glass is almost dry and there is a uniform residue of moisture left on the glass surface. The residue will quickly evaporate leaving a clean surface.
Spot Cleaning
Occasionally spot cleaning may be required to remove stubborn dirt or foreign materials that adhere to the surface. Spot cleaning products work to remove markings from grease, oil, tape adhesive, and crayons or other waxy materials as well as paint and rub-off marks from plastics.
RECOMMENDED PRODUCTS:
Methylated Spirits (solvent available from supermarkets and hardware stores) Please use strictly in accordance with manufacturer's recommendations and warnings.
PROCEDURE:
Apply a small quantity of the cleaner listed above to a clean, wet cloth or towel.
Rub on areas of glass needing spot cleaning.
Wipe clean using a dry, clean, lint-free towel or cloth followed by a routine cleaning procedure.
OTHER CONSIDERATIONS & IMPORTANT NOTES:
Do not use cleaners which contain Hydrofluoric or Phosphoric acid as they are corrosive to the glass surface.
Do not clean the glass when the glass is hot or in direct sunlight.
Do not allow cleaning solutions to contact the edges of laminated glass, Insulating Glass Units or Mirrors.
Do not store or place other material in contact with the glass. (This can damage the glass or create a heat trap leading to thermal breakage).
Abrasive cleaners, powder-based cleaners, scouring pads or other harsh materials should not be used to clean windows or other glass products.
Avoid causing extreme temperature changes to the glass as this may lead to thermal fracture of the glass, i.e. do not splash hot water on cold glass or freezing water on hot glass.
Some tapes or adhesives can stain or damage glass surfaces. Avoid using such materials unless they are known to be easily removed.
PROFESSIONAL CLEANERS
Professional glass cleaners have significant experience and access to specialized equipment, materials and methods which the general public may not. Professional glass cleaners are acknowledged experts in the cleaning of glass, Viridian offers this information as general advice only. Professional glass cleaners should consider the following information as part of the development of their own cleaning processes and procedures if desired.
Viridian ThermoTech™ Insulating Glass Units (IGU) Warranty
The following warranty is provided only in respect of Viridian ThermoTech™ insulating glass units ("the Product") where the Product is supplied by Viridian Glass Limited Partnership, NZBN: 9429043235872 of 15 Waiouru Rd, Highbrook, Auckland 2013 (Viridian).
The Product which this Warranty covers is only for IGU (comprising two or more glazing panels) units manufactured with either a Silicone/Polysulphide/Hot Melt secondary seal at the perimeter of the IGU unit manufactured by Viridian.
Warranty Period and DetailsSubject to the other provisions of this Warranty, Viridian warrants to the Buyer (being the original purchaser of the Product and subsequent owner of the Product) that for a period of ten (10) years from the date of manufacture that the void space in the Product shall remain free from material obscuration of vision resulting from moisture or film formation or dust collection on the interior glass surfaces of the air or argon space under normal conditions of use, subject to:

(a) normal manufacturing tolerances at the date of manufacture regarding particulates and inclusions within the glazing panels;
(b) the Maintenance Requirements being met;
(c) there no being any intervening acts outside the control of either Viridian or the Buyer;
(d) installation carried out in accordance with AS/NZS 4666:2012; and 
(e) Improper Use.

Normal Visual Characteristics If the Product is made up of more than one pane of heat-treated toughened glazing panels, objects viewed through the glazing panels may appear distorted due to surface distortion. This is a normal visual characteristic of heat-treated glazing panels. Any obscuration affecting normal visual characteristics shall be measured and be visible from three (3) metres under normal viewing conditions as outlined in AS/NZS 4667:2000. Normal visual characteristics such as Brewster's Fringes and Preferential Wetting Patterns as outlined in Appendix D of AS/NZS 4666:2012 are not considered defects.
ConditionsThis Warranty is to be read in conjunction with and is subject to the Viridian "Terms and Conditions of Sale" for the sale of the Product (the Terms). The Warranty is further subject to the following conditions:

the Buyer acknowledges that the Product:

if delivered to site for a third party to install, was at the time of delivery was undamaged and free from any defects; or
if installed by Viridian, was from the date of installation undamaged and free from any defects;

that the Product is from the date of installation to be protected from contact with wet cement, hard foreign objects, metals and materials likely to cause abrasive damage (Improper Use);
(Where the installation is being undertaken by a third party;

that the installation conforms entirely with AS/NZS 4666:2012 and or Viridian's recommendations as published in Viridian's literature and any specific correspondence pertaining to this installation (Viridian's Instructions), including any consents obtained by the Buyer or Buyer controlled third parties;
(ii) Where breather tubes or capillary tubes have been installed into the Product for transport to, or installed at, in-situ at altitudes in excess of 800 metres or more above mean sea level, those tubes must be sealed after enough acclimatisation has occurred at final altitude.

That from the date of installation, that:

(i) the Product is not exposed to chemical fumes or gases other than those present in normal clean atmospheric air nor is subject to prolonged exposure to water or moisture, nor is exposed to radiation of any type other than normal sunlight; and
(ii) the cleaning and maintenance of the Product is entirely in accordance with AS/NZS 4666:2012 and Viridian's recommendations as published in Viridian's literature and any specific correspondence pertaining to this installation (the Maintenance Requirements);

Viridian shall not be responsible and specifically excludes liability:

for glass breakage, for glass degradation or coating damage caused by IGU seal failure, where such failure is not the fault of Viridian or arises because of failure by the Buyer to meet the Maintenance Requirements;
for glass breakage caused by thermal stress, unless the Product has been ordered in accordance with a thermal assessment carried out by Viridian; or
for glass deflections exceeding the limits set out in NZS 4223 unless design wind pressures were provided to Viridian and the Product was ordered in accordance Viridian's recommendation regarding glass deflection.

This Warranty does not apply where the Product has been used in any manner not in accordance with the requirements of this Warranty or Viridian's Instructions, and does not cover any damage to the Product, or any other loss, which may be sustained as a result of the placement of any other materials on the Product by any party other than Viridian, and this exclusion includes, without limitation, the application on the Product of any adhesive or security films, hydrophobic coatings, harsh or abrasive cleaners not approved in Viridian's Instructions, paints, adhesives, marker pens, signage or advertising materials, or other protective materials except as approved in Viridian's Instructions.

Reporting and Verification of Product Failure.Any failure of the Product shall be reported immediately to Viridian by way of calling or emailing Viridian at 0800 847 434 or email info@viridianglass.net.nz .  If failure of the Product is not notified to Viridian within seven (7) days of defect or failure being identified by the Buyer, the Buyer shall be deemed to have waived all rights under the Warranty (subject always to the Terms).

The Buyer acknowledges, as an express requirement of this Warranty, that Viridian has the right to inspect and to establish to its satisfaction that the claimed defect or failure in the Product is in accordance with the above Warranty and that all the Conditions have been met.

Products must not be returned without the prior agreement of Viridian. Viridian may require the Product to be examined in situ to determine the cause of the claimed Product failure.

Viridian's ElectionSubject to the terms of this Warranty being complied with, in the event that the Product fails to meet the terms of the Warranty set out in section 1, and such defect or failure is caused by the direct result of a defect or failure in the material or manufacture of the Product, Viridian will, at its election, either replace the Product or refund the original invoice value of the failed Product.
Warranty of Replacement ProductAny replacement Product supplied pursuant to this Warranty shall be warranted only until the expiration of the Warranty period for the original Product.
Exclusions and Limits on LiabilityThe Warranty specifically excludes any consequence of breakage from any cause other than defective material or manufacture of the Product up to the specified design wind pressure as provided to Viridian or determined in accordance with AS/NZS 1170.2 or NZS 4223, and specifically excludes any consequential liabilities following installation.Viridian excludes all liability for loss and damage (including consequential loss) where the Product is a good or service other than of a kind ordinarily acquired for personal, domestic or household use or consumption.

the Warranty applies only to the Product in the size, shape and form supplied by Viridian to the Buyer, and any subsequent cutting, edge working, processing or any further alteration or relocation of the Product (even if made known to Viridian) is expressly excluded from this Warranty.

In no event shall Viridian's liability under this Warranty exceed the price paid by the Buyer to Viridian for the Product.

All expenses of claiming in respect of this Warranty will be borne by the person making the claim. Viridian may require documentation supporting the claim to be provided.

Business UseIf the Product is a good or service purchased for commercial, resale or trade use then the provisions of the Consumer Guarantees Act 1993 do not apply.
Where the Buyer is a ConsumerIf the Buyer has acquired the Product for the purposes of personal use, then any remedies stated in this Warranty are in addition to other rights and remedies of the consumer under any applicable laws relating to the Product and the supply being made.Subject to any limitations in the Consumer Guarantees Act 1993 and any other applicable legislation, Viridian excludes all other warranties, guarantees and remedies regarding the Products including all implied warranties and guarantees.

This Warranty does not and is not intended to exclude, restrict or modify the application of any condition, warranty, guarantee, right or remedy conferred or implied under any provision of any statute including the Consumers Guarantees Act 1993 as the case may be, where to do so would contravene the relevant statute.

Governing Law.This Warranty shall be governed and interpreted according to the laws of New Zealand.
InterpretationA reference to a capitalised term is a reference to that term as defined in this Warranty, or in the Viridian Terms and Conditions of Sale.